Nickel Plating Services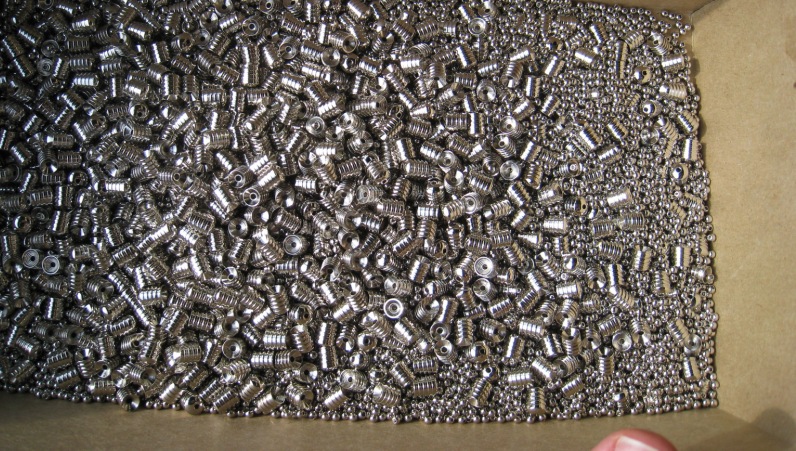 Nickel Plating has many decorative and industrial applications. Due to its high corrosion resistance and brilliant finish, nickel plating is used extensively on automobile components, hardware tools and other hardware such as light fixtures, door handles and plumbing components. Decorative applications include jewelry, store displays, medallions and awards. Most of these applications for bright nickel rely on the nickel for a decorative appearance with corrosion protection and wearability. The bright nickel finish will not rust and can be lightly polished to reveal its original shine for years to come.
Nickel plating is also used for many recreational purposes including the sport and commercial fishing industry. Decorative plating is applied to all kinds of fishing tackle such as spinner blades, weedless spoons, casting spoons, jigs and weights for freshwater, saltwater and fly fishing.
As nickel plating has a high wear resistance and can be plated uniformly over all surfaces, it is also used for applications where brightness is not required. As a barrier layer, nickel is plated on oil field valves, drive shafts, electrical tools and industrial machinery.
The most commonly used nickel baths are watts nickel baths, which use a combination of nickel sulfate and nickel chloride. Spectrum uses watts bright nickel baths to plate over base metals including steel, stainless steel, brass, copper, aluminum, lead, pewter and zinc die cast. In addition to being a great standalone electroplating finish, watts bright nickel also serves as a base finish for other electrodeposition finishes including gold plating, silver plating, black nickel plating, brass plating, copper plating, electroless nickel plating and Spectrum's environmentally friendly chrome alternative. as well as our environmentally friendly Chrome Alternative Finish.
Spectrum's Nickel Plating Services are offered in both rack plating and barrel plating in a variety of sizes and specifications.
To receive more information on Spectrum's nickel plating services, please submit the details of your inquiry using this Form. Please include the details of your product such as size and shape of product, application of product, required finish, what substrate or base material the product is made of, annual quantity and any other information that would help us provide an accurate quotation. All inquiries will be replied to within 24 hours of receipt.