Copper Plating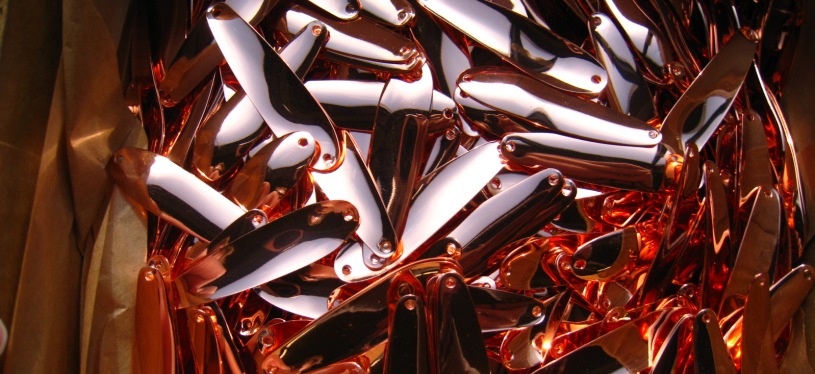 Copper Electroplating is the most commonly plated metal other than nickel plating. The reason for the popularity of copper plating is that copper plating or, what is commonly known as a copper strike is an excellent undercoat for subsequent deposits of metal plating. Copper plating serves as a good metal to cover substrate defects such as splinters, pit holes and other defects caused from lead or zinc die-casting. buffing or burnishing copper, which is very easy to do, improves its ability to be an excellent substrate. Copper can provide an easy-to-plate, highly level and bright substrate. In addition, copper is among the less expensive metals and the supply is stable. More leveling or thickness of plating can be obtained from copper plating for the cost of the metal electroplated than for any other electroplated metal.
Copper plating not only serves as a base layer for other electroplating processes, but is also commonly plated as a standalone metal finish. Bright or decorative copper plating offers a corrosion resistant surface for applications including coating steel wire and zinc-die castings. It is also frequently used in the electronics industry to make non-conductors conductive as well as on printed circuit boards and other electronic devices.
Spectrum Metal Finishing's copper plating services are offered in both rack plating and barrel plating in a variety of sizes and specifications. Spectrum operates an acid copper bath which provides a bright or decorative copper plated finish over bright nickel plating. In addition, Spectrum also operates a copper plating bath which is designed to provide a base layer prior to adding additional layers of gold plating, silver plating, nickel plating, black nickel plating, brass plating, electroless nickel plating, and our environmentally friendly chrome alternative.
To receive more information on Spectrum's copper plating services, please submit the details of your inquiry using this Form. Please include the details of your product such as size and shape of product, application of product, required finish, what substrate or base material the product is made of, annual quantity and any other information that would help us provide an accurate quotation. All inquiries will be replied to within 24 hours of receipt.